Bericote donates £55,000 to the Big Issue
December 5, 2018
Bericote celebrated opening our new London office last week at Tottenham Mews. As part of our celebration, we pledged to donate £1,000 to the Big Issue for every guest who attended.
This led to the final sum of £55,000 to be donated.
The founder of this charity, Lord John Bird, came along to receive the donation and gave a speech on how their journey started and the impact this money will have on the charity.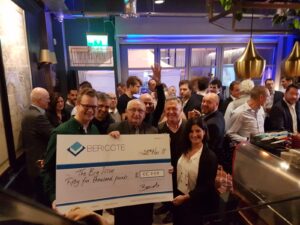 (Jonathan Maher – Bericote, Richard Saint – Bericote, Lord John Bird – Big Issue Founder, Stephen Robertson – CEO at Big Issue, Lee Pettit – Bericote, Serena Crisp – Big Issue)  
"We were absolutely delighted to receive such a generous gift from Bericote towards the transformational work of The Big Issue Foundation. The donation will be used to support our front-line delivery; to empower Big Issue vendors across the UK to reach their aspirations for the future, be it securing a safe place to live, tackling addictions, reconnecting with loved ones or embarking on training and development opportunities." Serena Crisp, Head of Partnerships & Philanthropy for The Big Issue Foundation